I know it is only January and we are likely to get blizzards and frosty mornings for at least another 2 months, but this weekend has been filled with the promise of things to come. The sun has shone and the birds are singing. Bulbs are popping up and my lawn is filled with crocuses (I didn't take a picture as it is also filled with holes where Bodie had a go at digging them up!). I did take a picture of these though. I love the smell when they open up, and it always reminds me of my Grandma.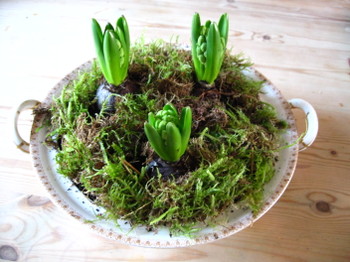 I am sat here by the fire with a glass of wine (having completed the biggest pile of ironing I've ever seen), while the girls are diligently tidying their bedrooms and Andy is in the kitchen cooking Pheasant with Chorizo and Butter Beans from yesterday's Guardian. Bliss. Actually the girls are arguing over who is most responsible for the mess, and if they spent as much time tidying as they have bickering the whole house would be immaculate, but that's just a small point! Other than that it is bliss!
I am still loving my new job, and will be really sad when the woman I am covering for comes back. I lost 3lbs in the first week, and could do with her staying off until I have lost 2 stone, but that may take a while! I am really feeling a sense of achievement and purpose at the end of every day and I am surprising myself at how organised I am. I am not usually very organised and life tends to be a bit chaotic and haphazard, but I do generally like that way of living. I am enjoying the structure now though and knowing what is happening when. The house is a bit of a pickle and I am missing popping into town for coffee with friends or time in my sewing room, but it is a small price to pay and I am having to go to the pub in the evening with friends instead! Shame!
I went too a car boot this morning with my friend Sophie (who wasn't put off by our last visit, which was her first ever). It was quite disappointing today though as there were almost too many sellers and we lost the will to live about half way round. Some of the things I liked were hugely expensive too - including a small tin of buttons and sewing bits and bobs for £10 I bought one twice the size filled with masses of stuff for £2 a few weeks ago, so I left it there. I did get a few treasures, but not my usual stash, but we had fun nevertheless.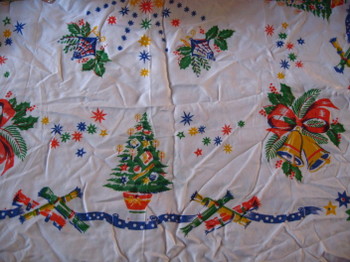 I know I am excited about Spring, but this tablecloth was too good to pass up, especially at 20p!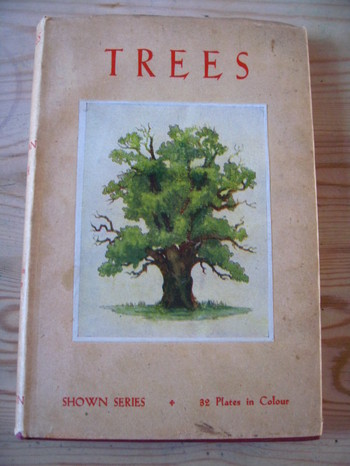 One for Grace - our very own naturalist (or naturist as she said she wanted to be when she grows up! I think she meant naturalist).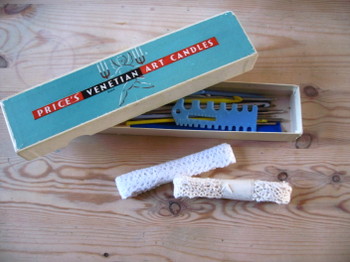 A lovely box full of crochet hooks and some lace,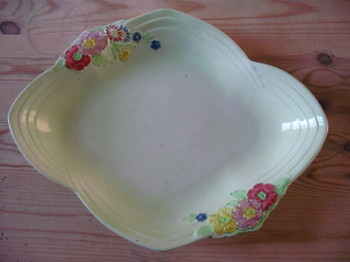 You can't tell from my awful picture, but this dish is a really pretty shade of green, and I love the shape of it. I also picked up some linens and a cut glass candlestick. So, not a total disaster.
I came home from work on Friday to find a parcel from Cath Kidston on my doorstep containing a toadstool pincushion. I was rather surprised, as I hadn't ordered it, but it turns out it was part of my Christmas present from my Aunt, which was delayed in the post. It goes with my lovely knitting bag which arrived before Christmas, and is now keeping my current project safe (an iPod cover in the green wool you can see popping out of the top). It is taking a while as I am too tired in the evenings and am not quite at the stage where I can do it whilst watching TV! I will get there in the end though!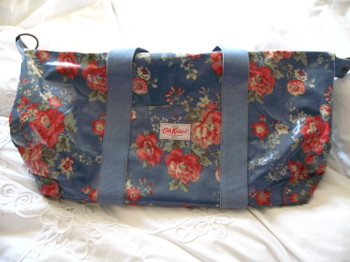 I seem to be having a bit of a rush on Cath Kidston stuff at the moment. Aside from the knitting bag I also received this enormous travel bag from my parents, which I am looking forward to using when we go on holiday to Northumberland in 3 weeks time. My sister gave me some toiletries also for Christmas, and I treated myself to this writing set as I love writing letters, despite the advent of email, and nice writing paper is hard to come by.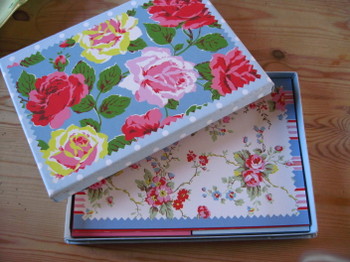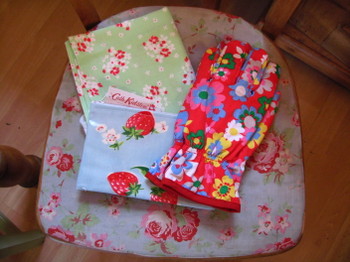 My lovely friend Sophie went to the Cath Kidston outlet at Bicester a week or so ago, and brought these delights back for me too, so I have been well and truly spoilt. I feel guilty about liking CK stuff as I do think it is overpriced, and I do generally prefer things that are genuinely old, but I just can't help it. She does do things that are out of the ordinary, and the colours are bright and cheerful. Now we have a shop here in Cheltenham it is much more visible though, and she does seem to be taking over the world! I do like my gardening gloves, and they look good hanging by the back door ready for action!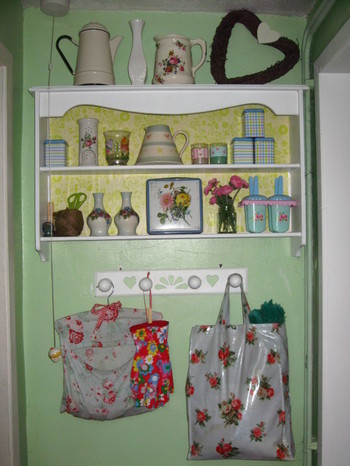 Well, again I must apologise for not checking out your blogs. I know Jess at Lobster and Swan tagged me and I am trying (and failing) to think of 7 things that you don't know about me, but I will save that for another time. I have got over 500 entries to check out on Bloglines, and I feel bad for not replying to all your lovely comments, but blogging is one of the things to fall by the wayside at the moment. I promise that when this job ends (maybe at half term) I will leave long, thought-provoking messages on each and every one of your blogs! I also haven't forgotten about the pay it forward, but again it has been put on the back burner for a while. Sorry. Please forgive me and stick with me - as some bloke said in some film "I'll be back"!
Wishing you all a happy week...
Cathy XX