Pembrokeshire has to be one of the most beautiful places in the UK. We had such a lovely week, and it was all over far too quickly. We had fabulous weather, and went on the beach every day - some days twice as we took Bodie every evening for a swim too. The girls rode their bikes (they both had new ones for their birthdays and Ruth had learnt to ride hers by the end of the week). We spent a day in St Davids which was very pretty but explained why no one was on the beach - they were all wandering around the town and cathedral.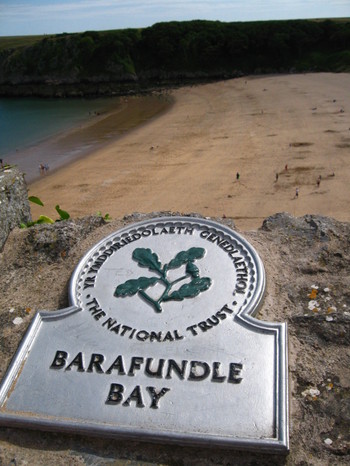 The beaches are amazing - gleaming white sand and crisp blue sea with trees coming down to the sand. The best bit was that they were virtually deserted too.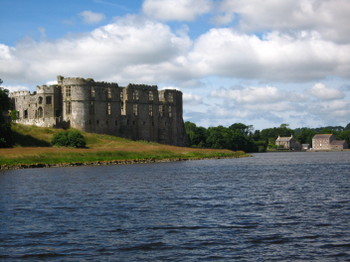 There are castles everywhere - this is Carew Castle, which is really impressive. Unfortunately I was distracted by the gorgeous house next to the mill in the background, which looked like somewhere I could live!!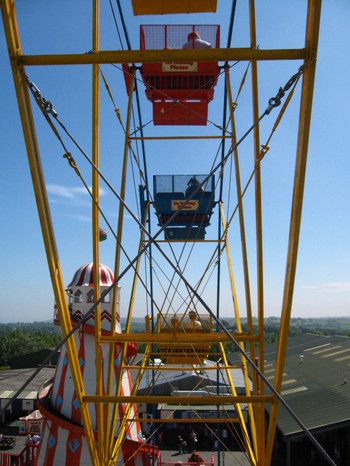 Ruth had her birthday on Wednesday so we went to Folly Farm as a treat, and they went on their first ever Ferris Wheel, fed animals, ate ice cream and then had fish and chips on the seafront in Tenby. Bliss.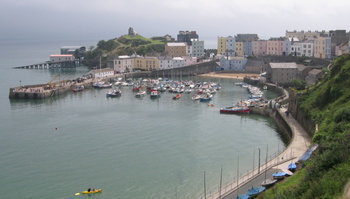 Tenby harbour - the seafront is really pretty with lots of interesting houses and tiny alleyways. We took over 500 photos while we were away, so be thankful I didn't post more!
Half an hour after arriving at our cottage Bodie decided he wanted to explore and jumped out of the girls' first floor bedroom window. He must have some cat instinct in him as he landed on his feet and walked away as if nothing had happened, although he did graze his chin and therefore it looked like he was sticking his tongue out for the whole week. A few trips to the sea helped it to heal and it won't be long before the hair grows back!
We came back on Saturday, I did heaps of washing and am now in 'sorting the house out' mode. I don't know if any of you suffer from this phenomenon, but whenever I return home from being away I have an overwhelming desire to tidy out cupboards, rearrange furniture and generally 'play house' for a while. I am going to be able to indulge my slightly sad desires as the girls are off on their hols again tonight. They are going to stay with my parents for a few days and I am planning a huge revamp of their bedrooms and the basement while they are away. They are really excited as they have only been to stay without us once before, and it was a huge success for everyone involved. My aunt and uncle have just bought a canal boat and are cruising the waterways on their sabbatical and are at the moment very close to my parents, so they are going to go on that too, which will be fab for them.
So, aside from a surprise barbecue to celebrate a friend's retirement and a trip to another friend's house for a paddle in their giant pool, we have been mooching around here since we got back. A trip to the allotment is called for asap as the weeds (and veg) have gone 'whoosh' since we've been away. We have been on a picking mission since we got home, but not for any length of time. We are also meant to be tending Sophie's half while she is away for the next 3 weeks. I am freezing peas and broad beans and we are eating our way through as much as possible - everything seems to come at once, so we will be almost-vegetarians for a while to get through it all. I also picked some blackberries, which struck me as very early. We haven't even got any raspberries yet (although they are Autumn fruiting ones). Having the allotment makes me feel very in-tune with nature and the seasons and I love eating food at the correct time of year. It seems wrong to eat asparagus and strawberries in Autumn, and I look forward to each season for the different food on offer.
We had Ruth's party before we went away, and that went swimmingly. We were all exhausted by the end of it though and were glad of the holiday! This is the fairy toadstool house birthday cake, which Ruth was very taken with. I found a picture on Google and tried to copy it, but it didn't turn out quite like the picture!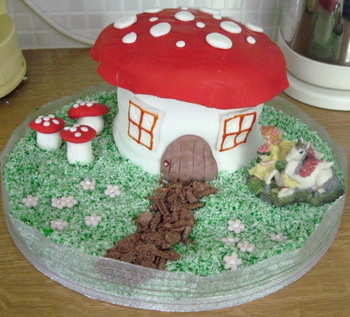 Before I go I must also say a big thank you to Mollycupcakes for her lovely giveaway. The fairies and flowers colouring book was snaffled up by the girls instantly and kept them occupied during the quiet lulls on holiday. The bath treats, buttons and notepad are definitely mine though. Andy ate the Bounty before I had chance to blink (to be fair he didn't realise it was mine, or he would have thought twice!). Thank you Catherine - it was a lovely treat.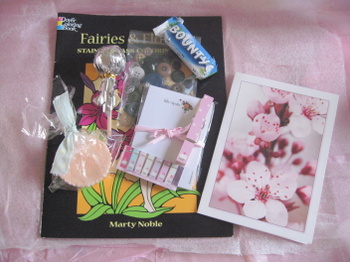 On that note, I am off to make obligatory holiday pancakes with maple syrup for breakfast. A little late, but we do like floating around in our PJs and we were up early as Andy is back to work this week and was out of the house at 7.30. He finds it hard to creep around quietly so we all get up with him! Hope you are all enjoying the holidays. Much love,
Cathy XX