Well, what a weekend! My lovely sister Rachel came all the way down from Newcastle to sunny Cheltenham to give me a huge kick up the backside and get me back on the road to selling. And selling we did! In quite some style!
This is my stall at the Bath Road Market on Saturday with Rachel, seller extraordinaire, behind all the pretty stock. We came home considerably richer and with much lighter boxes having met old friends and made new ones, eaten the biggest piece of Banoffee Cake I have ever seen, swigged copious cups of tea, eaten Thai Curry for lunch, and laughed our way through a very sunny day. Everyone was so friendly and encouraging, and I can't wait until the next one.
Yesterday was spent recovering and walking in the Leach Valley in yet more sunshine, followed by a huge roast chicken and Eve's Pudding in the evening.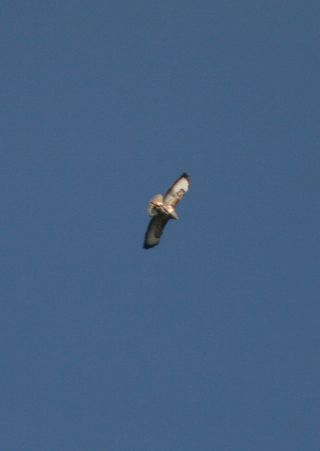 Rachel cracked the whip some more yesterday too, and made me have a big sort out of stock. I have listed a couple more bits and bobs on Etsy, such as this gorgeous biscuit tin,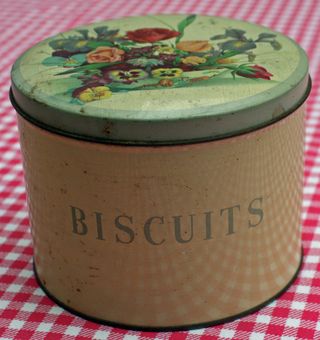 and this cute little primrose yellow jug. I have got tons more stuff to get photos of and list, and as my handmade jewellery sold so well I am going to list some of that too when I have a few spare moments, so watch this space!
Rachel left this morning after a scrummy breakfast at Cafe Rouge (we are all about the food when we get together), and I am feeling a little bereft without her. Andy is cooking chilli for tea, followed by a catch up TV session of House and Upstairs Downstairs with a glass or two of wine to cheer me up. Lush!
Something else I have been busy with is making 2 lots of 6 metres of bunting for a very dear friend who I went to school with, and who is embarking on a really exciting venture. She really is living the dream and has bought a VW campervan which is currently in the process of being turned into a vintage ice cream parlour which can be hired for weddings and events. You can check out Polly's Vintage Ice Cream Parlour here on Facebook. Please go over and say hi!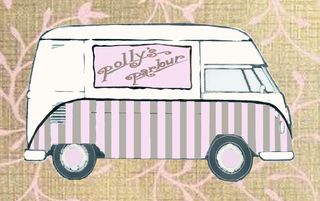 You could also like my Facebook page while you were there if you wanted to!
I hope you have all had a happy Monday. Thank you to everyone who said hi on Saturday, and to all my new readers. Please leave me a message so I know you've dropped by!
Cathy X