We seem to be having a bit of a family-fest in our house at the moment. Last week my gorgeous sister came to stay, on Friday my parents came for the day to pick her up, and then yesterday my in-laws arrived for a week (staying in a holiday cottage - more on that later). They leave on Saturday, which is the same day that Andy goes away for a week, and then my parents are returning for the day on Sunday to drop off their aged Springer Spaniel who is coming for her holidays while they jet off to sunnier climes. My sister may return shortly too - she is homeless at the moment having just bought a house with her boyfriend but the contract on their flat ran out before the moving in date for their house.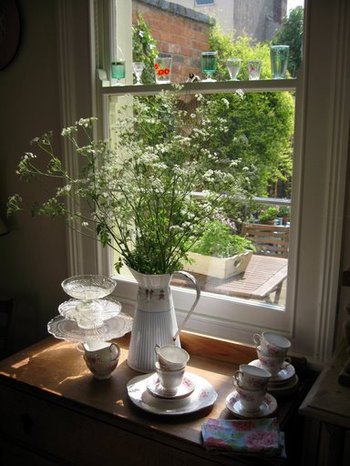 My family is the most important thing in my life - starting with my own little group (Andy, Grace, Ruth), and then widening out to my parents, sister, 2 elderly grandmothers, various aunts, uncles and 1 cousin, Andy's family, and friends who are so close that they may as well be family. I wish that my family lived nearer (my parents are 90 miles away in Leicestershire, and my sister lives in Newcastle), but we see each other fairly frequently and talk on the phone (my sis and I also text each other many times a day). Sometimes I feel I'd like to move away from Cheltenham to be nearer them all, but we are tied here forever due to Andy's job. There are worse places to live - Cheltenham is a beautiful town, and the countryside is never very far away. We have wonderful friends here, our allotment, a great school, a lovely house (and hopefully soon another even lovelier one!), we are within walking distance of the town centre, parks, even countryside if you don't mind a steep climb! If my family could move within a 30 mile radius it would be perfect.
So, my week with my sis went quickly. She is 5 years younger than me, and we hated each other as children, but she is the now person who knows me best (after Andy), and is one of the few people who can make me laugh until the tears pour down my cheeks. We had a lovely time pottering around town, going out for breakfast one day, lunch the next, trying out make up and perfume, chilling at home with wine in the garden at 4 in the afternoon, making a party tea for the girls after school one day, watching Family Guy, discussing our innermost secrets, sticking buttons on shoes.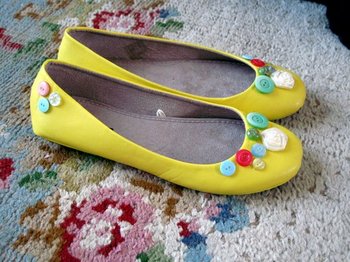 It is real therapy when we get together, and I think we were both in need of fun as we have both had a rather hectic and stressful time recently. I feel refreshed and renewed and raring to go, and hope she does too.
One of the places that we visited was the Cath Kidston shop here in Cheltenham, which has started to sell a few vintage bits and bobs. I was amazed to see the very same Queen Anne tea set that I have listed on my website for sale for more than double the price I have listed it for - the cake plate, sugar bowl and milk jug alone were going for £30. They also had a pretty Royal Vale trio for £30 in the same pattern as one I have on the website for a third the price. I can't believe that people are prepared to pay such over-inflated prices just because it came from the Cath shop.
One of the other things I spent last week doing was wiping blood from the walls. Bodie is the happiest dog in the whole world, but unfortunately that means he wags his tail a lot. He split the end whilst doing some very vigorous wagging and then proceeded to splatter blood all over the walls in a 50cm swathe which spread all over the house. The kitchen looked like it had been the scene of a massacre of very short people, and my top tip to you all is to buy wipe-clean wallpaper (fortunately the green wallpaper in my hall is wipe-clean, which is just as well - red and green should never be seen, apparently!). So, several rude words later, this is what he looks like. I did some emergency veterinary nursing and bandaged the end of his tail with some tubular finger bandage and some micropore tape. The collar is to stop him pulling the bandage off. Does he look like a happy dog to you?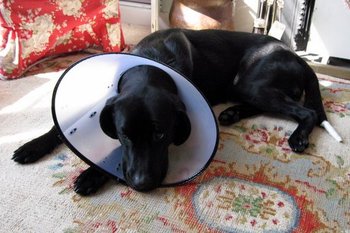 How about now?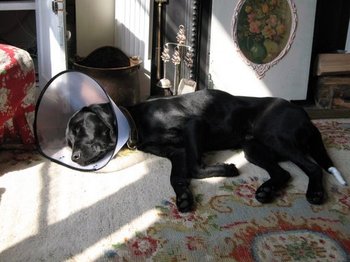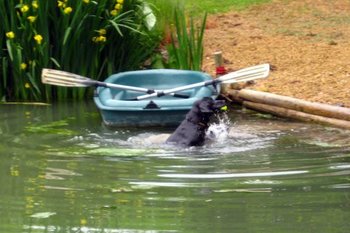 And now?! We took the collar off once he forgot about his tail (he is a dog of very little brain), and took him to Andy's parents' holiday cottage. They have been coming to the same cottage for the last 13 years, twice a year, and it is like home from home now. It is a converted barn and looks out over the valley to the Malverns (couldn't get a good picture due to the rain and fog, but will try later in the week), with acres of land for walking. There is a pond at the foot of the hill and we decided it was time that Bodie learnt to swim. He is a labrador after all, and loves retrieving his ball, but water seems to worry him slightly. He doesn't like getting his feet wet in puddles so getting him into the pond was a major effort. We will persevere all week, but this wasn't bad for a first effort!
One of the benefits of having a husband who travels through work is that he brings home little gifts to make up for leaving me to sleep in the bed with clean sheets and no snoring, watching my programmes on the tv in peace, reading my book for more than 10 minutes in bed without being asked if I am turning the light out yet... (I do miss him when he's not here,, but the first night is always bliss!). This was this week's offering - a bar of expensive chocolate. It is probably the nicest chocolate I have ever tasted and I don't want it to ever end. Normally I wolf it down in one go, but I am savouring this one! Can't wait for the next trip!!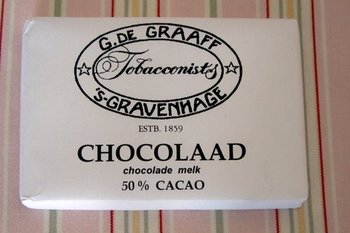 I hope you are all having a lovely long weekend and half term (if it applies to you). If not, I hope you are having fun whatever you are doing. Thank you all for your lovely comments - I am trying to go around all your blogs to leave reciprocal comments, so bear with me!
Cathy XX