My posts are like buses - you wait for ages for one then 2 come along together! I thought I'd get a sneaky post in while the girls are occupied and Andy is at work, because after tomorrow we will be away for most of the rest of the holidays. We are off to Dorset tomorrow for a weekend camping with some friends, then back for a day to do some washing, then a lodge in North Wales for a week just the 4 of us, then Pembrokeshire for another week with my parents. The break is certainly going to be very welcome - I've been working flat out on the house and Andy has been really busy at work, so our child free week wasn't much of a holiday. Satisfying though - I have cleared out 2 car loads for the tip and 2 for the charity shops, so the house is feeling much bigger! It won't last long but I'm enjoying it for the moment.
So having revealed my new kitchen in the last post (which was actually finished about 3 months ago), I am now ready to reveal my new bathroom (which was finished about 3 days ago!). We've lived here for 9 years and I have hated the bathroom ever since we moved in. Still, patience is a virtue and it was definitely worth the wait!
View from the loo! I've got a huge pile of books beside my bed to fill up the rest of this bookcase with.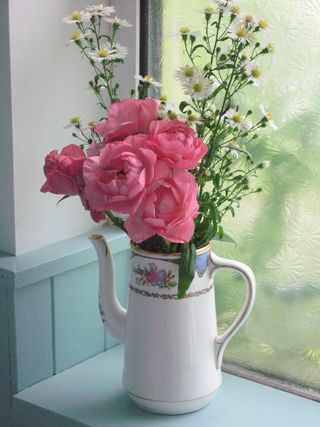 The first of several flower shots. Just because I like them.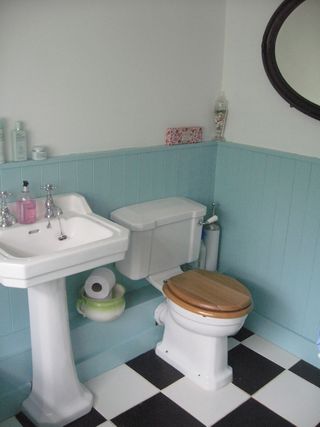 The view of the loo. We kept the old bath as it was a huge old enamel one (not roll top unfortunately), but had a new shower fitted over it. I forgot to take a photo and the light has gone now as we are due yet another downpour, so you'll have to take my word for the fact that it is a huge improvement.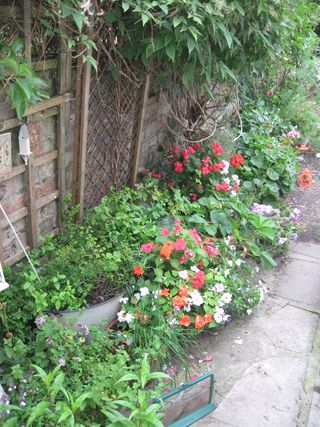 My garden has done ok this year despite the builders and the weather. The herbs and busy lizzies have been pretty rampant in particular, although the herbs are now past their best and are going to seed. Note the ant farm at the bottom of the photo - nothing to do with me I can assure you!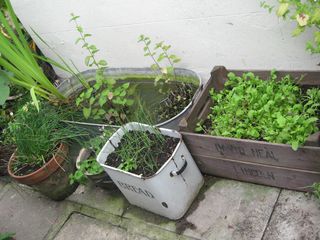 My spring onions in the bread bin are nearly ready to harvest, and the cut-and-come-again salads in the wooden tray have been keeping us well fed. I have also harvested cucumbers pretty much daily for weeks and have masses of tomatoes to come. We had heaps of peas and broad beans too - not bad for a postage stamp of a garden. We have finally given up the allotment after 7 very happy years, which had become more of a worry than a pleasure - keeping on top of it was not an easy job as it was so huge, and the relief at not having the worry has outweighed the sadness of waving goodbye to it.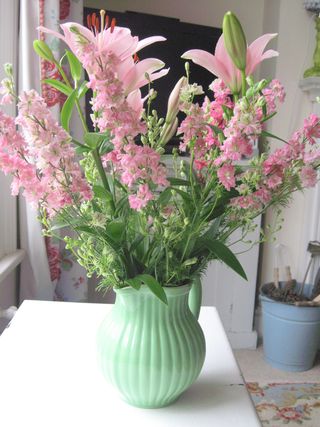 More flowers. I've posted a photo of these to remind me that I don't always have to buy my own flowers - these are from Andy, and came with the words "because you have been working so hard". I was speechless.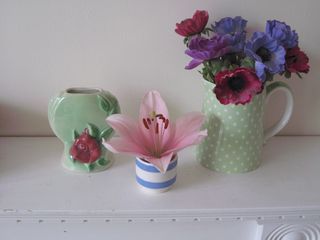 One of the lily buds had broken off so I popped in it this egg cup and it has just opened up beautifully.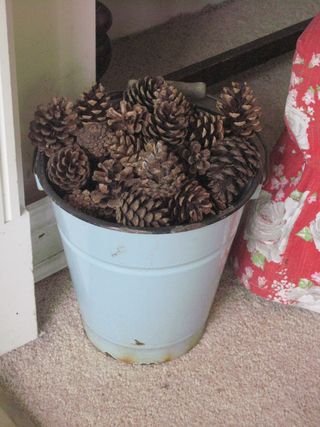 And finally, this is a little nod towards pleasures to come. We found masses of dry pine cones on one of our favourite dog walks, so brought some home to use as kindling. I am planning to get a few more bags before the Autumn and they get too soggy and rotten. 
Well, keep your fingers crossed for good weather for the weekend. I'm planning to scour Bridport market on Saturday for treasures, all being well! I'll be back soon...