Please tell me that those few days of glorious sunshine weren't the only truly Spring-like days we are going to see. My garden is beginning to bloom, I put my boots away, dug out my Summer wardrobe, made salads and drank g&ts (well, ok, I know I do that all year round, but this was in the garden!) I'm not ready for more rain and chilly nights.
So, yet again, this blog has been seriously neglected. I love blogging - I love the writing and recording, and then reading it back a while later and remembering things I would usually have forgotten. I also love reading other peoples' blogs, and I still manage to read my old favourites and find some new ones, but as for commenting... I read them on my phone usually while drying my hair, waiting for the spuds to boil etc, so never manage to leave comments. I'm still there in spirit though. I'm hoping to pick it up in the next few months and I have changes a-coming, which will mean that I will hopefully have more to blog about, and more time to comment on yours (if anyone is still reading!). More on that another day...
I'm out of the way of taking photos for my blog, so I don't have photos to show you of the clothes I've been making (including my first dress, complete with lining and a zip), the jewellery I've been creating, the patchwork I've been doing or the crochet I've grown weary of, but I did remember to take photos of the food I've been cooking.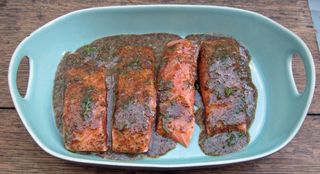 Salmon with Honey, Mustard & Dill marinade.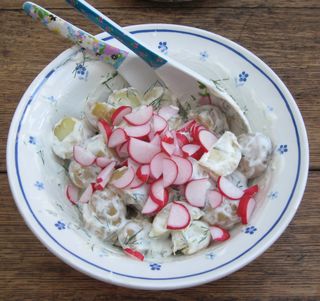 Swedish style potato salad with radishes (and dill). These recipes were both taken from last month's Sainsbury's Magazine, and are a huge hit with us all - largely because anything with dill in it reminds us of the fabulous Summer we had in Sweden a few years ago. This is comfort food Scandi-style for us!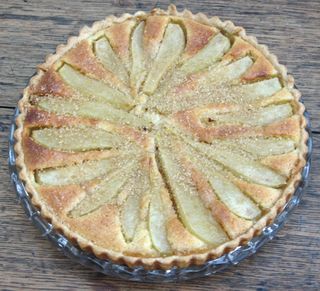 Pear Frangipane tart. This is soooo easy to make and is fantastic for entertaining with some chantilly cream, or warm from the oven with a cuppa. You can either make a basic shortcrust pastry, buy some Jusrol, or even buy a ready made case, fill it with a basic frangipane recipe (of which there are hundreds online - I tend to make it up as I go along, but it has approxiately 75g butter and sugar creamed together, then 1 egg, a few grams of plain flour, and 100g or so of ground almonds mixed in until it looks like cake mixture), and then peel and slice some pears and plonk them on the top. Sprinkle with demerera sugar and pop in the oven for about 20 mins - or until it looks done. It's also pretty scrummy with plums instead of pears, or raspberry jam on the bottom. Sorry for the total lack of professional recipe, but it really is that easy.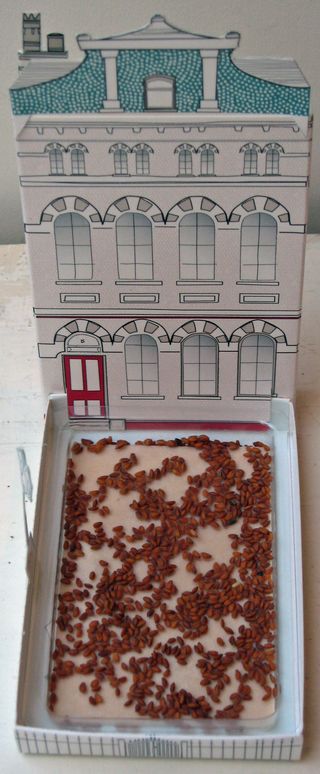 We've been growing our own food, too. Unfortunately as it is pouring with rain you can only see the indoor produce, which consists of 2 of these gorgeous little houses with a freshly seeded lawn - which hopefully will be lush and verdant in only a few days. Cress is a wonderful little sprout!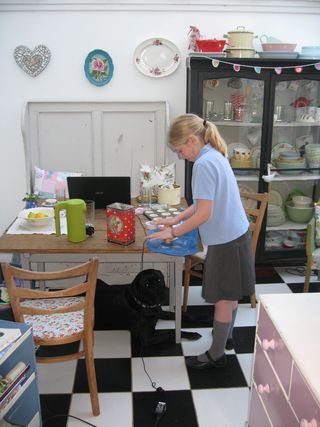 Talking of little sprouts (did you see what I did there?!), my not-so-little-anymore sprout is about to take her pesky SATs (controversial tests in Maths, English and Science at the end of Primary school for those not in the know), and will be leaving Primary School forever in a few weeks time. Here she is in school uniform making jam tarts, complete with 'helper', who is hopeful of bits of pastry dough making their way under the table. As I'm typing this my even bigger sprout is in the kitchen making biscuits. Dieting is pretty hard in a house where there are 4 bakers (Andy makes a mean banana loaf on his days off!).
Well, fingers crossed for more sunshine, sandals, ice lollies and barbecues. I've got blue tits nesting in my little bird house, and a lilac tree just about to flower - I hope they don't get blown away by the stormy weather.
See you soon...!