I know, I know, it is ages until New Year - there is the whole matter of the 'C' word to contend with first, plus the small matter of November and December, but today I have made my New Year's Resolutions.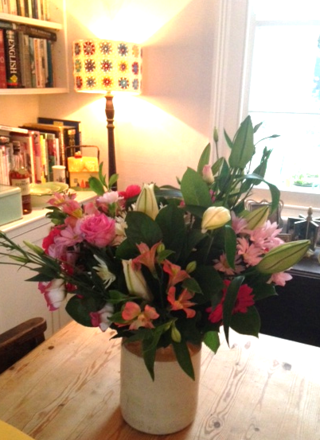 Birthday flowers.
Yesterday was my 38th birthday. Having surrounded myself with a husband and friends who are for the most part the other side of 40 to me, I am aware that I am not that old yet (nor do I feel it!). However, quite a few changes have all come at once for us and it feels like the end of one part of my life and the start of another. Friday was my very last day at school (having done the emotional farewell in July it was a low key trip to the pub with friends after work), and although I am sure I will be back for the odd trip, art day, even some supply work, this is really it now.
More birthday flowers.
I have mixed emotions about leaving school- I loved my job, my work friends, the children (some of whom I worked with in at least 4 different classes and years) and the very short trip around the corner to work every day. However, today is the first day of my new life - I am self employed, working from home, and don't really know where to start!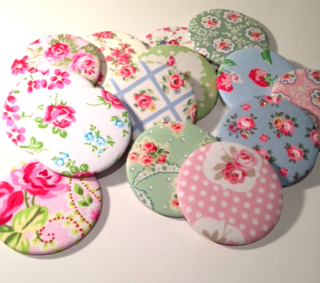 Playing around with some fabric to make these mirrors was therapeutic and got me cracking in the right direction this morning.
Andy started his new job yesterday too, so we will have to get used to him working normal office hours, having worked shifts for over 4 years. I am looking forward to having the house to myself during the week and having normal weekends where we can do things as a family again. It's very quiet here today - no Radio 6 Music coming from the kitchen to drown out my Radio 4, no children, even the dog is subdued and has barely wagged his tail. Still, the sun is shining now, after the torrential downpours of the last few days, so I am sure he will be happy to accompany me on a stroll around the block to get some fresh air and meet Ruth from the school bus.
My New Year's resolutions have always been the same - to lose some weight and to start driving. Having passed my test 13 years ago and not driving since it had become a bit of a 'thing' for me. However, I have now been driving (relatively successfully) for 6 months, and am building up my confidence to go it alone. I have also lost a small amount of weight, and I am confident that without the cakes and donuts on the staffroom table I will be able to keep that up too.
So, as this is the start of a new year in my life I thought I would come up with a few resolutions to replace my old ones and to reflect the fresh start I am feel began with my birthday yesterday. If I write them here I will be reminded of them and I may actually stick to them this year!!
1) Cook well and eat healthily all week.
2) Make lists and stick to them.
3) Buy a pedometer and see how far I walk each day. Then increase it.
4) Go to bed earlier and read more, without falling asleep with the book on my face.
5) See friends more, and have fun.
Happy New Year!